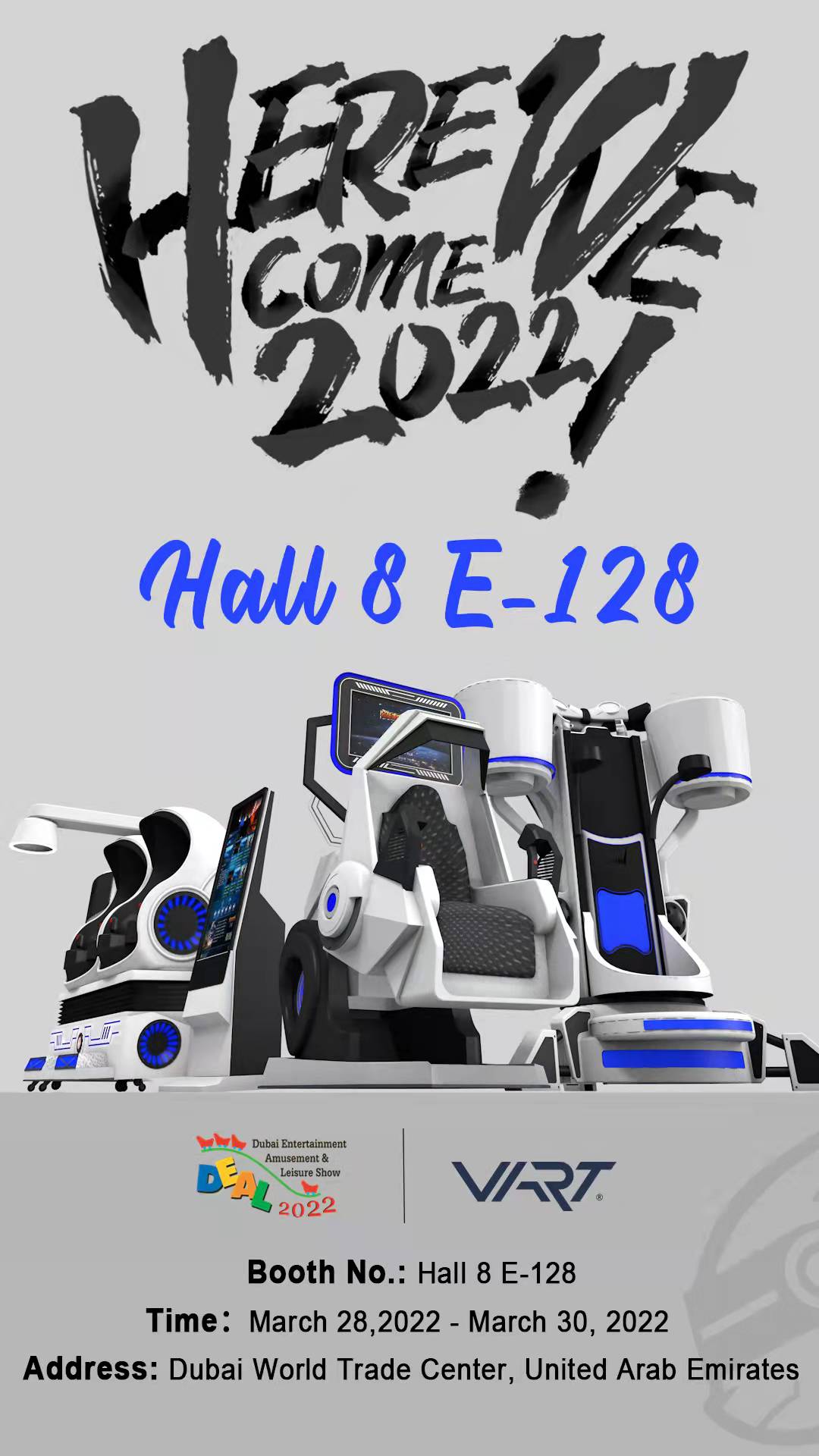 The world has undergone several challenges in the past two years and we are waiting to bounce back in 2022.
Here we are!VART had participated in the 2022 DEAL Dubai Entertainment Amusement & Lesiure Show.Hoping to meet you-dear client dear friends, our booth no is Hall 8 E-128.The show time is March 28,2022-March 30,2022. Address is Dubai World Trade Center,United Arab Emirates
VART  Top Vr Equipment is the best choice for experiential marketing, brand promotion, live music and major sporting events, corporate functions, industry events, exhibitions and a lot more. VART have over 14 years experience in designing and operating virtual reality experiences, VR simulators, Virtual Reality Arcade,Virtual Reality Exercise Equipment and Playstation Vr Movie Theater all over the world. All our setups feature newest technologies, brandable logo, customisable appearance.
Some impressive VR entertainment options provided include:
 Vr Motion Ride
VART  360 Degree Flight Motion Vr Simulator Vr Roller Coaster Chair
VART  Vr Flight Simulator Virtual Reality Vr Shooting Games Machines
Vr Egg Cinema Vr Chair
VART  2 Players 9D Vr Egg Chair
VART  4 Seats Vr Simulator 9D Vr Cinema
VART   6 Seats Vr Cinema Vr Spaceship
Virtual Reality Game Room Vr Cage
VART  Vr Multiplayer Simulator Vr Escape Room
Vr Movie Theater
VART  VR Movie Theater VR Cinema
Vr Driving Simulator

9D VR Racing VR Driving Simulator
Virtual Reality Ride VR Motorcycle Simulator
3 Screen Racing Car Racing Game Simulator
Funny Vr Kid
VART  4 Players VR Simulator Kids VR Ride
VART  Kids VR Machine VR Submarine Simulator
Clicking The Product Name Get More Detail
If You Are Interested In Our Products, Please Send An Inquiry And Our Professional Sales Team Will Contact You As Soon As Possible
---
Post time: Mar-21-2022